0
Your shopping cart is empty.
Marcel Breuer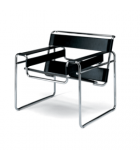 Born in 1902 in Hungary, Marcel Lajos Breuer is one of the fathers of modernism. A student from 1920 at the famous Bauhaus architecture and applied arts school in Germany, he then spends one year in Paris in an architecture firm. He is then invited by its director Walter Gropius to return there as a teacher in 1925. During this period, he creates the Wassily B3 chair (1925), considered as the first chair in curved steel tubes inspired by a bicycle handlebar. He leaves the Bauhaus in 1938 and works in Berlin where he continues to create steel tubular furniture-his hallmark (see also the B65 desk, the Cesca B32 chair baptized after his daughter's name, Francesca).
In 1935, to escape Jewish persecution, Marcel Breuer first settles in London where he is hired in the Isokon company (see the long chair) and then in the United States in 1937. He teaches there, in the Architecture school at Harvard University and works with Walter Gropius. Without giving up industrial design, Marcel Breuer enters a thriving second career: that of architect. In 1941, he founds his own company in New York. The Geller House I » in Long Island build in 1945 is Marcel Breuer's first building to integrate the concept of « binuclear » house, separating the bedrooms form the « living » part. He will also be in charge of the realization of the UNESCO head office in 1953. Marcel Breuer died in 1981 in New York. 
Read more