0
Your shopping cart is empty.
André Sornay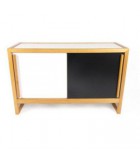 After studies at the Fine Arts school in Lyon, André Sornay (1902-2000) takes the lead of his family business when his father died in 1919, at the age of 17. He completely revolutionizes production by going from copies of classical furniture to the creation of modern furniture. He joins the Union des Artistes Modernes alongside avant-gardists such as Charlotte Perriand, Pierre Chareau and Francis Jourdain.
Clear and geometrical lines, harmonious proportions and great functionality are a hallmark of André Sornay's creations who works with precious wood, rubber, Permatex (plasticized waterproof fabric) or even metal. If his works do not get recognition before 1925 at the Decorartive Arts and Modern Industrial International Exhibition, he gets a bronze medal  for his personal desk in 1937 at the International Exhibition for Modern Life Arts and Techniques.
His greatest achievement is due to assembly techniques which are deemed revolutionary such as clouting, patented in 1932 or the « tigette Sornay », trademarked in 1953 (see the furniture collection with the tigette system). In the 1950's and 1960's, André Sornay hands over control of the company to his children who turn to the manufacturing of furniture for local authorities. The designer, himself retires and finds joy in paining. He died in 2000. 
Read more
Showing
1
-24 of 117 item(s)