0
Your shopping cart is empty.
Philippe Starck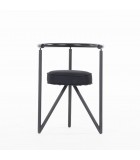 Interior designer, creator, inventor, artistic director... Philippe Starck is one of the most famous designers of his time; an "all-round artist" who excels in more than one area.
Born on January 18, 1949 in Paris, Philippe Starck very quickly showed a penchant for creation, undoubtedly influenced by the profession of his father, André Starck, an aircraft designer.
At just twenty years old, he was noticed by the biggest names in the world with his first creation: an inflatable structure for the Perce-Neige association, which already showed his particular interest in living spaces.
Deeply committed to a world that he dreams of being fairer, he explores his profession with this mission of making life better for as many people as possible through his creations. He will say, in this regard « Nobody is obliged to be a genius, but everyone is obliged to participate. »
His career really took off at the end of the 1970s with his sculptural seat designs. And it was in 1982 that his fame became worldwide thanks to his Mr Bliss chair, which enabled him to obtain a VIA grant to develop the Miss Dorn chair.
Furniture, dishes, glasses, solar boat, prefabricated wooden house, individual wind turbine, space housing module... his creativity knows no bounds. He becomes a scenographer of stimulating and unconventional places where he plays on the lighting to make them more beautiful, more elegant, more loving. Its trademark: the elegance of the minimum with a minimal design, often monochrome.
Today, his creations are exhibited in the greatest museums in the world, in New York, Munich, London, or even in Paris, at the Pompidou center where no less than 64 pieces are exhibited such as the Lola table and chair set. Mundo, the Bubu stool or the prototype of the Coste armchair. 
Read more