0
Your shopping cart is empty.
Joseph-André Motte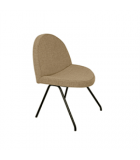 The Man who created the famous colored shell chair of the Parisian metro is called Joseph-André Motte. Not very famous in the mainstream, in spite of his professional renown, Motte (1925-2013) started by being the valedictorian of his class at the Ecole des Arts Appliqués à l'Industrie, where he learned from teachers such as René Gabriel and Louis Sognot.
Motte began his career as a furniture designer at the Bon Marché, one of the oldest Parisian department stores and cooperated with Marcel Gascoin's workshop. In 1954, he founded his own agency and co-founded the Atelier de Recherche Plastique (Studio for Plastic Research) with Michel Mortier and Pierre Guariche, before working within the Goupe 4 together with René-Jean Caillette, Geneviève Dangles and Alain Richard. The French Designer became famous thanks to the Tripod Chair, aka Christera, in rattan, and then works with Disderot for lamps and Steiner the manufacturer from 1954 (see the 771 chair, the 770 armchair, and the Prisme office chair). Motte also created luxury furniture for the National Furniture in the 1960's.
In parallel, Joseph-André Motte is commissioned with great works for public equipment such as the layout of the Orly Airport, its geometric furniture, armchairs and couches (1958-1961), the maritime station of Le Havre (1963-1964), the prefecture of Cergy-Pontoise (1970), the Parisian metro stations (from 1973)…the designer also teaches at the Ecole nationale supérieure des Arts Décoratifs (Ensad) as well as the Boulle and Camondo schools. In 1970, he is awarded the famous Compasso d'Oro bor the Graphis desk. 
Being part of a generation of forerunners unfairly forgotten who have revisited classical shapes with modern techniques and materials, Joseph-André Motte is the French designer of the French touch elegance and excellence. 
Read more