0
Your shopping cart is empty.
Pierre Guariche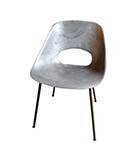 Iconic French designer of the 20th century, Pierre Guariche has marked his time by allying esthetics and mass production. Born in 1926, he enters the ENSAD (Ecole Nationale des Arts Décoratifs) at the age of 19. He graduates in 1949, he starts working as an intern with Marcel Gascoin a post-war star decorator. His real career only starts in 1950 when he releases his first lamp, the Rotaflex lamp.
If he releases his first models alone and exposes them at the Domestic Science Fair and then at the Decorators Artist Fair, his success with the mainstream catches the attention of manufacturers. Pierre Guariche then designs furniture and decoration objects for different brands such as the MAI gallery, the Airborne company, Pierre Disderot and Steiner.
Pierre Guarriche associates with two other decorators, Michel Mortier and Joseph André Motte to found the Atelier de Recherche Plastique (ARP) in 1954. He now creates furniture suites for Charles Minvielle (see the desk model Président). In 1957, Pierre Guariche heads the furniture section fo the Belgian company Meurop and slowly turns to interior design. In 1965, He is awarded the René Gabriel prize and participates to the planning of the La Plagne ski resort and the Firminy hospital. Pierre Guariche died in 1995. His creations are today reissued by Maisons du Monde
Read more
Showing
1
-10 of 10 item(s)