0
Your shopping cart is empty.
Pierre Paulin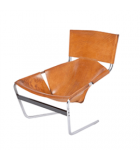 The king of jersey, Pierre Paulin was born in Paris 1927. He grew up in Laon in the Aisne department where he discovers a passion for family creations, along with his uncles, a sculptor and car designer respectively. A student at the Camondo School in 1951, he became the student of Maxime Old then entering the firm of Marcel Gascoin. Influenced by Alvar Aalto's Scandinavian furniture, but also by the modernism of Charles and Ray Eames and Florence Knoll, Pierre Paulin is noticed at the Salon des Arts ménagers in 1953. He works with Thonet France which manufactures his first furniture in 1954.
In 1958, Pierre Paulin joins the Maison Artifort in Maastricht. There, he develops a range of round-shaped seats and bright colors, that will bring him success. Designed in a molded wooden shell covered in foam and covered in extensible fabric called jersey, some have become icons such as the Ribbon chair, the Tongue chair or the Mushroom  armchair (also see the Oyster armchair, the Bulb sofa or the ABCD sofa).
In the 1970's, Pierre Paulin helped bring modernity into the Elysee presidential palace by arranging the private apartments of President Pompidou. He then created the official furniture for President Mitterand in 1984 before renovating Jacques Chirac's dining room. In parallel, he co-founded the ADSA agency in 1975 to launch industrial projects (Calor/Tefal, Citroën, Airbus, la SNCF, etc.). Pierre Paulin is awarded the national prize of Industrial Creation in 1987 and his furniture is exposed in the greatest museums in the world including the MoMA in New York or the Georges Pompidou Center. The designer died in Montpellier in 2009. 
Read more
Showing
1
-13 of 13 item(s)