0
Your shopping cart is empty.
George Nelson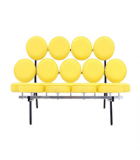 An American Designer, George Nelson was born in 1908 in Connecticut. After Architecture studies at Yale, he gets a scholarship to study at the American Academy in Rome from 1932 to 1934. He takes the opportunity to travel throughout Europe where he interviews famous modern architects such as Le Corbusier, Walter Gropius, Gio Ponti or Mies van der Rohe. In 1935, George Nelson joins the editorial staff of the Architectural Forum magazine and then founds his own architecture firm in New York the following year, which will close during World War II. In those troubled times, Georges Nelson continues his journalistic work and teaches at Columbia University.
In 1945, he created the Storagewall, the first modular wall storage and a forerunner for furniture systems. Published in the press, he makes a sensation in the industry. George Nelson catches the attention of D.J De Pree, at the head of the Herman Miller company, who visits him in New York. George Nelson is appointed director of design in 1947, a position he will keep until 1972. Alongside Alexander Girard, Ray and Charles Eames, and Isamu Noguchi, he manages to convince to work with him at Herman Miller. George designs himself pieces for the company, of which he is a pillar of its international renown.
In parallel, and from 1946 on, George Nelson also directs his own design agency, dedicated to architecture, exhibition scenography but also furniture in collaboration with Herman Miller. George Nelson thus created objects that became modern icons such as the L shaped desk, forerunner of modern workstations, the Pedestal dining table, the Coconut Chari or the Marshmallow Sofa along with its 18 multicolor pillows supported by a steel structure. George Nelson died in New York in 1986. 
Read more
There are no products on the category.