0
Your shopping cart is empty.
Charles et Ray Eames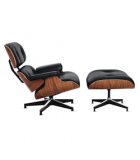 They are the most famous designer duo in the post-War. Him, Charles Ormond Eames Jr, born in 1907 in Missouri, starts by studying architecture in Washington University in Saint Louis in 1925, then opens an architect study in 1930 where he works with Eliel Saarinen who will invite him in 1938 to study at the Academy of Arts in Cranbrook (Michigan). She, is Ray Berenice Alexandra Kaiser, born in 1912 in California, she first studies abstract painting between 1933 and 1939 before studying at the Academy of Arts in Cranbrook in 1940, where she assists Charles Eames in his work, he is then professor in industrial design. Charles and Ray get married in 1941.
Having settled in California, the couple is subsidized by the US government during World War II for their technical advances on plywood. They produce braces and stretchers for the US Navy wounded. In order to perfect their technic, which will give birth to their famous Plywood chair. Nevertheless, their company, Evans Products is a flop. But this is not including the fact that the production rights are acquired by Herman Miller, who will put the couple on the track for success. During their whole career, the Eames haven't stopped experimenting new techniques with all sorts of materials (wood, fiberglass, steel wire, plastic), and only abide by a utilitarian design accessible to the masses.
After exhibiting their famous Los Angeles house, made in prefab in a parallelepiped shape in 1949, Charles and Ray release their greatest success in 1956: the Eames Lounge Chair, a molded plywood armchair that will sell in more than six million units and is part of the permanent collection of the Museum of Modern Art in New York. But it's not the only creation of the couple to make it into history (see the DSW chair, the wire chair, l'armchair DAR…). Charles died in 1978, Ray ten years later, but their furniture is still manufactured by Vitra and Herman Miller. If the couple is mostly famous for their furniture, Charles and Ray Eames were also architects, producers, scenographers for exhibitions and toy designers. 
Read more
Showing
1
-11 of 11 item(s)