0
Your shopping cart is empty.
Charlotte Perriand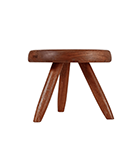 Born from a tailor father and a dressmaker mother for haute-couture in 1903 in Paris, Charlotte Perriand graduates from the Union centrale des arts décoratifs in 1925. From the age of 24, she makes herself known with her "Bar sous le toit" in metal, created for her apartment-workshop on Saint-Sulpice square, which was acclaimed by art critiques of the time.
She then starts to work alongside Pierre Jeanneret and Le Corbusier.
She is an associate in their workshop in 1928 and works with them during ten years. A partnership which produces pieces that have become iconic such as the B308 table, the B206 long-chair or the Grand Confort armchair. She supplies, among others, the Villa of the banker La Roche in the Paris 16th district and that of the Church family in Ville d'Avray (Hauts-de-Seine department).
From 1929, alongside René Herbst, Pierre Chareau, Robert Mallet-Stevens or again Eileen Gray, she founds the UAM (Union des Artistes Modernes), an avant-garde movement willing to join modernism and rationalism together, all the while preserving tradition.
Charlotte Perriand multiplies research on minimalistic habitat, but also on the modulable week-end house and the prefab mountain refuge. In the 1940's, she is invited as an advisor in industrial art in Japan, a trip which will give her a taste for wood, straw and bamboo. When back home, she resumes her research on collective equipment with the planning of the Cité International Universitaire de Paris in 1952. For the occasion, she creates multifunctional furniture.
Charlotte Perriand devised a new concept of the habitat with a strong human dimension, influenced by her pro-communist political involvement. Her passion for the mountains leads her to participate in the creation of Les Arcs ski resort in Savoie (1967-1989). It's the achievement of her research on collective habitat and interior arrangement. Charlotte Perriand died in 1999 in Paris. Her furniture has been reissued in 2004 by Cassina. 
Read more
Showing
1
-21 of 21 item(s)