0
Your shopping cart is empty.
Max Sauze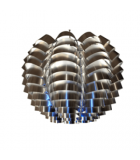 Born in 1933 in Algiers, Max Sauze starts his artistic career in Algeria in 1960 after studying at the Algiers School of Fine Arts and the Camondo School in Paris. In 1963, he settles in Eguilles near Aix-en-Provence in the south of France.
The designer works with aluminum and designs shapes to wish he adds lighting. Pioneer in the field, the company bearing his grows very fast from the end of 1960's. His aluminum suspensions, wall lights, lamps have a great success (see Andromed, Cassiopé and Orion luminaries). The commercialization throughout Europe, and transatlantic, in the United States and Canada. Max Sauze also creates furniture in chrome wire manufactured by Group, Forum and Isocèle.
But at the end of the 1970's, the development of halogen lamps appears to be a turning point  in the lamp sector. Max Sauze turns then to other types of creations. The artist creates surprising works, such as the Livres Fermés and invests into his garden at Eguilles, open to the public and listed by the Ministry of Culture as « a remarkable garden». His son, Sébastien Sauze, takes over the company Max Sauze management and reissues certain lamp models. 
Read more