0
Your shopping cart is empty.
Guillerme & Chambron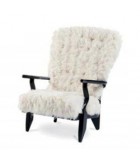 Their company, Votre Maison, has marked the history of French design. Guillerme et Chambron get acquainted for the first time in 1940 in a stalag, a prisoners camp in Oriental Prussia. Prisoners, they become friends, but the first post-war years they part. A graduate of the Boule school in 1934, Robert Guillerme puts his talent at the service of the Rogier workshops, a big company in the Lille area. Jacques Chambron, a graduate of the Applied Arts School in Reims, with his own painting and decoration workshop in Paris. In 1948, Chambron and his family leave Paris to settle in Lille. Both men meet again together with Emile Darioseq, owner of a cabinetwork workshop looking for new outputs: Votre Maison will see the day a year later in 1949.
Guillerme draws the furniture design, Chambron plays the part of salesman by welcoming and advising clients, and the Darioseq workshop take in charge the manufacturing. Together, they define new furnishings concepts. Buffets, tables and chairs which are affordable, robust and authentic (see the study desk model in solid oak and the tables and chairs and 6 chairs in solid oak and canework). Well-crafted chair back, polished wood and thick cushions make the reputation of their armchairs and sofas. With the help of Boleslaw Danilowski a ceramist, they combine wood and tiling: a great success. In the 1970's, Hervé Chambron, the son of Jacques, also graduates from the Boule school, joins Votre Maison and crafts his own creation when his elders retire, in 1983. The company is terminated in 2000. 
Read more
Showing
1
-19 of 19 item(s)