0
Your shopping cart is empty.
Marco Zanuso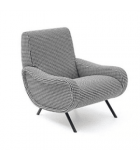 Born in 1916 in Milan Marco Zanuso studied at the Polytechnic school in Milan. He founds his own design agency in 1945 and becomes the editor of the Domus magazine created by Gio Ponti, from 1947 to 1949 before joining the Casabella review in the same position from 1952 to 1956. He also widely contributes to the theorization of the modern movement.
In 1957, Marco Zanuso associates with the German designer Richard Sapper. Until 1977, they together develop objects and furniture. Both consultants for the Brionvega company, which specializes in the design of electronic devices, they create televisions, radio  such as the TS502 in 1964. Both designers have a decisive impact regarding the introduction of plastic objects in European households.
Marco Zauso is awarded five Compassi d'Oro prizes between 1956 and 1985 and many times the Gold medal at the Milan Triennale, namely in 1951 for his Lady chair (see also the Regent sofa and armchair) He is one of the first designers to delve into the product industrialization issue beyond the mere esthetic question. Marco Zanuso died in 2001. 
Read more