0
Your shopping cart is empty.
Joe Colombo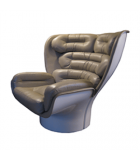 First starting with painting and sculpture until 1949 at the Academy of Fine Arts in Brera, Milan, Joe Colombo (1939-1971) followed with architecture studies at the Polytechnic school in Milan until 1954. He returns to his first passion in the 1950's by joining the nuclear painting movement founded by Enrico Baj. His drawings already are a foretelling of the futuristic vision that will be a hallmark of his furniture. He then replaces his father at the head of the family company at his death in 1950, a job he will leave in 1961.
Joe Colombo's designer career starts in 1962 when he opens his first agency in Milan. With his brother Gianni Colombo, he creates the Acrilica lamp and the Elda armchair in 1963. In the 1960's, he collaborates with the greatest manufacturers such as Kartel (see the 4801 armchair), Zanotta, Stilnovo, Alessi or O-Luce and is awarded many prizes (Compasso d'Oro and the Premier Design International Award).
His innovative, futuristic or even utopian style is within the great streams of the 1960's such as Pop Art. One of the main axes of his work is about researching modular and flexible systems. The Tube Chair, in 1969, made up of four PVC tubes of varying diameters covered in foam and able to take different positions is a perfect example.
At the end of the 1960's, Joe Colombo dedicates himself to functional « habitat cells » and develops the concept of anti-design. His premature death at the age of 41 puts an abrupt end to his career. He was then one of the most famous designer and remains one of the most influential designer of this time. 
Read more
There are no products on the category.