0
Your shopping cart is empty.
Pierre Chapo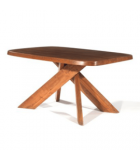 Pierre Chapo was born in 1927 within a craftsmen Parisian family in Belleville (19th district) Before World War II, his family settles in Vierzon, in the Cher department. There, Pierre Chapo discovers a passion for wood while meeting with marine carpenters in 1947. The young Chapo works on this material-which will become his favorite- in his workshop. He then studies at the Paris Fine Arts School. After a transatlantic trip, in Central America, Mexico, the United States and Canada, he returns to France to open his first workshop in Clamart in the Paris suburb.
There, Pierre Chapo continues his work on wood. In 1960, he receives the Gold medal of the city of Paris. Focused on associating modernity and tradition, Pierre Chapo remains mostly unknown for the mainstream. His creations are nonetheless put forward during prestigious sales (see the S11 chair, the S24 chair, the T14 table and bench, the T35B table and the T22C coffee table). He suffered from Charcot diseases and died in 1987. 
Read more
Showing
1
-24 of 24 item(s)