0
Your shopping cart is empty.
Michel Mortier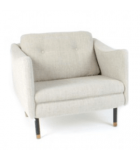 Born in Paris in 1925, Michel Mortier first specializes in architecture studying at the Ecole des Arts appliqués à l'industrie. At the end of World War II, in 1944, he joins the Louvre Studium where he turns to interior design. He then joins the furniture department at the Bon Marché in Brussels.
He is noticed by Marcel Gascoin, then young Michel becomes the first director of the Association d'Aménagement rationnel de l'habitation et des collectivités (Arhec, which works on collective habitat), from 1949 to 1954. Through this he is acquainted with Pierre Guariche and Joseph-André Motte, with whom he founds the Atelier de Recherche Plastique (ARP) in the 1950's.
In 1959, Michel Mortier opens his own interior design agency (see the SC104 chair and armchair, the Teckel sofa manufactured by Steiner in the 1960's) and then gets introduced to graphics in Canada before taking part in the International Exhibition in 1967.
Michel Mortier is awarded many prizes among which the Gold medal at the Milan Triennale in 1954 or the René-Gabriel Prize in 1963, he teaches at the Ecole nationale supérieure des arts décoratifs in Paris, at the Ecole des arts appliqués as well as at the Ecole supérieure d'arts graphiques Penninghen. He died in 2015, at the age of 90. 
Read more