0
Your shopping cart is empty.
Harry Bertoia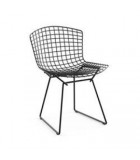 Born in 1915 in Arzene in Italy, Arieto Bertoia a.k.a Harry Bertoia, is a complete artist. At the age of 15, while visiting his brother in Detroit, he registers at the Cass Technical High School where he studies art, design and jewelry crafts. He then continues his curriculum at the Detroit Society of Arts and Crafts Art School followed by the Cranbrook Educational Community where he first meets the Eames couple. Harry Bertoia will not leave the United States from then on.
In 1939, he opens his first ironwork workshop and teaches the creation of jewelry and metalwork. With the war effort underway, he focuses of the manufacturing of jewelry and designed together with Charles and Ray Eames. In 1943, Harry Bertoia settles in California to work in the plywood division their company, Evans Products. The designer contributes with Hans and Florence Knoll and designs chairs woven in iron threads as the famous Diamond chair, the Bertoia Side Chair and the Bertoia Bird Lounge. These sculptural icons are always sold by the American Knoll company.
These pieces of furniture sell so well that Harry Bertoia dedicates himself exclusively to his first passion: Sculpture. He receives a first commission in 1953 for the General Motor technical center thanks to Eero Saarinen, with whom he designed the altar at the MIT chapel in 1955. In 1960, Harry Bertoia gets involved in sound sculptures always in metal:  he regularly performs at concerts and records several records thanks to his creations. About fifty of his public sculptures are exhibited around the world crafted by this brilliant artist, who died of cancer in 1978. 
Read more