0
Your shopping cart is empty.
Paolo Piva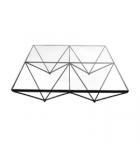 Born in 1950 in Adria in Italy, the designer Paolo Piva starts by studying architecture at the Venice University in 1968. In 1970, he follows classes at the International University of Art in Venice and works from 1975 with the Venice History and Architecture Institute and the Vienna Applied Arts Academy for the realization of the « Vienne Rouge » exhibition which finally took place in Rome in 1980.
From the 1970's, Paolo Piva collaborates with companies which specialize in furniture such as Fama, B&B Italia, Giovannetti, Dada, Poliform, Bro's, Tetrad, Wittman, or De Sede. An enthusiast for minimal design where each functional unit is reduced to its most essential shape, Paolo Piva designs pure furniture, such as glass tables on metallic base (See the Alanda coffee table)
In the 1980's, Paolo Piva is commissioned to design the Kuwait embassy in Qatar, decorates stores for clothing stores, realizes the refurbishment of the head office of Charles Jourdain Paris, the Palazzo Remer in Venice. In 1988, Paolo Piva becomes a professor at the Vienna Applied Arts Academy.
Read more