0
Your shopping cart is empty.
Gérard Guermonprez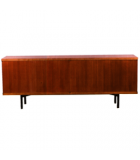 After studying at the Boulle school in Paris, Gerard Guermonprez exposes at the Salon des Arts Menagers (Fair for Domestic Arts) from 1954 to 1976 where in 1955 he notably presents series of furniture in clear oak mounted on a black painted metal base.
From 1957, the French designer collaborates with the Magnani workshop for which he designs interior furniture such as tables, chairs or suites. This partnership contributes to his renown and give him access to the French market, in Paris and beyond, but also in North Africa (Casablanca, Oran, Algiers).
His creations are famous for their solidity, simplicity and functional aspect. The most exclusive pieces are even numbered. 
Read more