0
Your shopping cart is empty.
Robin et Lucienne Day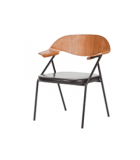 Born in 1915 in High Wycombe in the United-Kingdom, Robin Day is one the most influential British designer of the 20th century. He graduated from the Royal College of Art in 1938. Lucienne Conradi, born in 1917 in Couldson in England, is a renowned textile designer. Once married, Robin and Lucienne Day open their own design study in 1948. The following year, Robin Day participates to the Low-Cost Furniture contest, organized by the Moma in New York, and wins the first place. Spotted by the Hille company, he becomes the design director of that company in 1950. The following year, Robin and Lucienne each receive the Gold medal at the Milan Triennale.
Robin Day truly makes it into the history of design at the beginning of the 1960's by developing a concept of plastic molding through injection. He then creates to Polyprop chair, made up of polypropylene molded by injection. Inspired by the works of Charles and Ray Eames, It is produced in 14 million copies and becomes a world furniture reference. Added to this taste for technical research, is the will to create practical and economical furniture in a post-war context. The Hillestack armchair, a real icon of the 1950's is a perfect illustration (see also the 658 armchair and the chairs design for the Royal Festival Hall in 1951 or the 675 manufactured by Aiborne.) Robin and Lucienne who worked their whole life in close collaboration, both died in 2010. 
Read more