0
Your shopping cart is empty.
Florence Knoll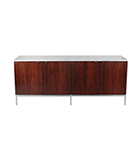 The American Architect and furniture designer, Florence Knoll was born Florence Marguerite Schust in 1917 in Michigan. An orphan at the age of 12, the young girl went into art studies entering the Kingswood School in Cranbrook, Michigan at the age of 15. She continued studies at the Cranbrook Academy of Arts, the Columbia University School of Architecture where Charles Eames was one of her teachers, and at the Architectural Association of London.
At the beginning of the War, Florence Marguerite Schust left England to go back to the United States where she worked along with Walter Gropius and Marcel Breuer who both influenced her work, along with the Bauhaus movement. She then continue her training at the Armour Institute, know today as the Illinois Institute of Technology where she was acquainted with the German Architect Ludwig Mies van der Rohe who influenced her approach to design in terms of clarity.
In 1941, She meet Hans Knoll in New York, who was at the head of his own furniture company he founded in 1938. Two years later, she was hired. They get married in 1946 and the same year the couple creates the Knoll Associates company. Convinced that architects should contribute to the design of furniture, Florence Knoll called on Harry Bertoia, Eero Saarinen, Mies vans der Rohe, Isamu Noguchi or Marcel Breuer initiating the notion of Interior Design.
Some of her own creations became design icons of the 20th century, thanks to their timelessness, their sleek style and neutral tones. At the death of Hans Knoll in 1955, she ran the company until her retirement in 1960. Florence Knoll is the first women to be awarded the Industrial Arts Medal (1961) and in 2002, she received the National Medal of Arts. 
Read more
There are no products on the category.