0
Your shopping cart is empty.
Gae Aulenti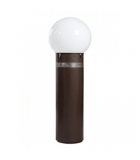 This Italian designer is a pioneer among the generation of women architects in the second half of the 20th century. Born in 1927 in Palazzolo della Stella in the north-east of Italy, Gaetana Aulenti graduated in architecture at the Polytechnic school of Milan in 1954. A member from 1964 of the Italian Society of designers, she triumphs at the 1964 Triennale of Milan which awards her the Grand Prize. Gae Aulenti will then on collect titles and rewards previously reserved for men.
It's in the 1980's that she reaches word fame. Specialized in the arrangement of great public spaces, Gae Aulenti is famous in France for the interior arrangement of the Musée d'Orsay (1980-1986) and of Beaubourg (1982-1985). She will moreover be decorated with the Legion of honor by François Mitterand in 1987.
But Gae Aulenti is also a prolific designer with great talent: from the 1960's and 1970's, she designs many pieces of furniture and objects, among which the famous Pipistrello lamp in 1965 (see Quadrifoglio lamp). She is also the chief-editor of the Casabella-continuità magazine  from 1955 to 1965, then for Lotus International in 1974 and teaches all over the world, in the United-States, Canada, Spain, Germany, Sweden and Iran. In 1991, Gae Aulenti is awarded the Japanese Praemium Imperiale prize for her lifetime achievement.
She died in 2012 at the age of 84. 
Read more