0
Your shopping cart is empty.
Eero Saarinen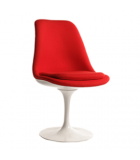 This Finnish American designer born in Finland in 1910 from an artist mother and an architect father, Eliel Saarinen. His family emigrates to the United States in 1923 and settles in Michigan. After studying sculpture in 1929 and 1930 at the Grande Chaumière academy in Paris, Eero Saarinen follows with architecture study at Yale University until 1934. He gets a scholarship thanks to which he travels throughout Europe. In 1936, Eero Saarinen works in his father's Architecture firm. His constructions such the Gateway Arch in Saint Louis or the CBS headquarters in New York are marked by a heterogenous and international style. The TWA terminal of JFK airport in New York is considered a masterpiece of architecture.
Also in charge of classes at Cranbrook-where his father is the president-Eero Saarinen there meets with Charles Eames. These two passionate of new materials and new processes become friends and jointly design a range of furniture in molded plywood.
Together, they participate in 1940 to the « Organic Design in Home Furnishings » MoMA contest in New York. In Cranbrook, Eero Saarinen gets to know Florence Knoll. She will invite him to design furniture for Knoll International. Some of his pieces have become design best-sellers in the 1950's such as the Tulipe chair (See the Conference chair, the Womb chair or the Tulipe table and its marble plateau). Structural curves and a concern for visual and practical unity; his demanding style reflect each one of his projects. Eero Saarinen is the leader of second generation Modernism and died from a brain tumor in 1961. 
Read more