0
Your shopping cart is empty.
Roger Landault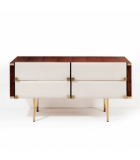 Born in 1919, Roger Landault spends his school years at the Applied Arts school in Paris. His career is marked by a remarkable adaptation ability: the French designer evolves with his time, going from handcrafted modern furniture to his beginnings in thermoformed plastic works in the 1970's such as dinner tables with integrated banks called Unibloc manufactured by Steiner.
In 1945, he is hired by the Louvre Studium where he is appointed as artistic director. The same year, he wins the first prize of the Meuble de France contest. He catches the attention of the A.B.C company in 1946, for which he creates several product lines: from the reconstruction furniture with Junior (1951-1954), juxtaposed creations in solid wood  with Dakar and Rotterdam (1955-1959) rewarded by the René-Gabriel award, a great range of materials with Panama (1959-1961, see also the leather coated dressing table), to Scandinavian style lines with Chatelaine and Rio (1960-1961). But Roger Landault also works with other manufacturers such as Bouvier (see the 6517 chair manufactured from 1954).
Roger Landault died in 1983.
Read more