0
Your shopping cart is empty.
Pierre Gautier-Delaye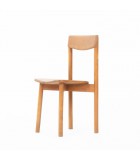 Interior architect, furniture and industrial designer... Pierre Gautier Delaye, born in 1923 in Paris, is recognized today as one of the most remarkable figures of his generation. However, nothing predisposed him to this incredible journey. 
He met interior design in the mountains, in Haute-Savoie, where he stayed for health reasons. While doing odd jobs to earn a living, he met the architect René Faublée with whom he took his first steps as a draftsman. A vocation was born. He then returned to Paris to join the National School of Decorative Arts in Paris. 
The mountain will not cease to train him, however, since he will complete his end-of-study internship alongside Henry Jacques Le Same, an architect particularly known for his luxurious chalets in Megève for Parisian personalities such as the Baroness de Rothschild. 
After graduating in 1951, he was quickly hired by the Parisian branch of the American agency founded by the industrial designer Raymond Loewy: the Compagnie d'Esthetique Industrielle. Draftsman, workshop foreman then interior designer, he climbed the ladder and then worked for prestigious clients such as Air France or the BHV. 
Furniture in the "Weekend" series
It was by taking off and creating the "Meubles Week-end" brand with his publisher and friend Lucien Vergnères that Pierre Gautier Delaye became the remarkable designer of mass-produced furniture that we know today. 
Undoubtedly inspired by his stays in the mountains, the Week-end series is made up of a set of furniture characterized by the simplicity of their line, the use of solid wood – in particular Landes pine – and natural straw. Without denying their popular inspiration, each piece is designed with a refined sense of detail, whether in the recess of a chair back or the junction between the top and the legs of a table. 
Success is on the way. He exhibited on several occasions at the Salon des Arts Ménagers and at the Salon des Artistes décorateurs. He will even be awarded the René-Gabriel prize in 1956, for his « Weekend » series. 
The capsule collection of Galerie 44

 
Today, Pierre Gautier Delaye's creations are invited to the gallery! We are very happy to have been able to acquire a nice batch of authentic Weekend furniture from the 1950s; tables, chairs, and stools with timeless lines, patinated by 'me, which will bring a nice touch of naturalness to a dining room or a kitchen. 
Each piece of furniture has been carefully cleaned and checked in our restoration workshop to guarantee you products in good vintage condition. 

Read more
Showing
1
-12 of 12 item(s)