0
Your shopping cart is empty.
Mario Botta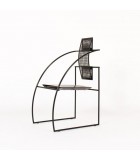 A key personality in design and architecture, Mario Botta was born in 1943 in Mendrisio, Switzerland. Architect, designer but also teacher, he is recognized for his mastery of geometric and cylindrical shapes, his work with metal, and more particularly chrome. Among his most
legendary pieces of furniture: the Prima, Seconda, Quarto and Quinta chairs as well as the Zéfiro suspension.
But his future was far from certain. Born into a modest family of three children, abandoned by their father at the age of 7, Mario Botta was a child in fragile health to whom many activities, considered dangerous, were prohibited. "I had to keep quiet and maybe that's why I started drawing," he confides.
Drawing, and art in general, then became a true passion. At 15, he left school to become a building designer and completed his first family home project a year later, before diversifying his work with projects for banks, places of worship, libraries...
His studies, in Milan then in Venice, enabled him to work for Le Corbusier and Louis Kahn; two encounters that will change his approach to architecture and the aesthetics of his creations, which will become imbued with the brutalist architectural style.
He started his career in the 1970s by opening his own architectural office in Lugano while teaching in many major architecture schools all over the world.
Contemporary architecture is marked by no less than 600 projects drawn by his hand such as the Museum of Modern Art in San Francisco, in the United States, the Cathedral of the Resurrection in Evry, in France, the Tinguely Museum in Basel, in Switzerland, the Museum of Modern and Contemporary Art of Trento and Rovereto in Italy or the Bechtler Museum of Modern Art in Charlotte, in the United States. 
Read more