0
Your shopping cart is empty.
Carlo Forcolini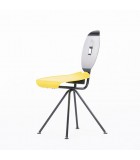 Italian designer born in Como in 1947, Carlo Forcolini is known for his pieces of furniture that combine functionality and imagination, drawing inspiration from art, literature and cinema.
After studying at the Academy of Fine Arts in Milan – like many great designers of his time – from which he graduated in 1969, he took his first steps at the studio of the Castiglioni brothers and then at Vico Magistretti who are two big names from the Italian design scene, where he designed his very first lamp.
It was in 1978 that he left Italy and moved to London (United Kingdom), to found Alias UK with his brother; an innovation center that will allow him to work on new materials and experiment with design. With Alias UK, he will notably publish his most famous piece: the Miro chair.
The 1980s were a prosperous period for him, with exhibitions all around the globe. He forged his work by drawing inspiration from Italian thought and his taste for beauty, while appropriating English pragmatism. He then worked for major publishers such as Amar, BBB Bonacina, Caimi, Cassina, De Padova, Futura or even Artemide, of which he would become the director.
In 2009, Carlo Forcolini became CEO of IED Istituto Europeo di Design; one of the most prestigious private institutions in Europe which teaches design, but also visual arts, fashion and communication, before becoming its vice-president in 2012. 
Read more