0
Your shopping cart is empty.
Guillaume Guinet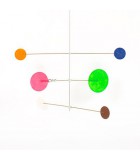 Guillaume Guinet is an experienced innovative artist who specializes in sculptor, a perfectionist, whose art is a reflection of today's world.
Originally from the Dauphiné region in south-east France, he moved to Lyon at the age of 4. Son of a family in the silk industry, Guillaume has been immersed in the textile environment since his childhood, which gave him his passion for the material and his expertise in the manufacturing process.
He complemented his knowledge and experience with references learned during his studies at « Beaux Arts de Saint Etienne » and today, as an artist, knows how to work, turn and transform material into works of art. During his education, Guillaume exhibited his first creations at the VIA Gallery (Valorisation of Innovation in Furnishing) in Paris.
Following his studies, Guillaume started a research and experimentation program with innovative textures such as fiberglass and carbon. He started producing his first pieces in 2007, focused on the development of unique pieces and small series.
Through his collection of contemporary weather vanes, Guillaume presents a series of works in colored fiberglass and aluminum. A universe that plays with our perception between tension, lightness and balance.
In his lighting series entitled « Cobicylindre », « Carbocylindre » and « Luscylindre », Guillaume puts into perspective pieces of a remarkable fineness of assemble, underlined by the innovative use of carbon, which he uses in interaction with light.
Absolute artist, Guillaume designs and produces all of his creations in his workshop in Lyon, mastering the entire production chain, with a twinkle in this eye and a nod to his families heritage. His creations are accomplished works, cemented in contemporary art.
Read more
There are no products on the category.