0
Your shopping cart is empty.
Louis Kalff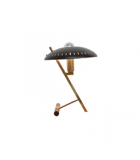 Considered one of the pioneers of industrial design of the 20th century, Louis Christianna Kalff was born in 1897. This Dutch graphic designer studied object design, sculpture, ceramics and architecture. He began his career in the advertising department of the appliances company Philips, a company he joined in 1924. He quickly becomes the head of the department and participates to the design of the brand logo.
Five years later, he creates a lamp design workshop at Philips (see the table Z lamp), before becoming the artistic director of the company. In the 1930's, Louis Kalff is appointed head of the lighting for big scale events at the World Exhibition in Barcelona, Antwerp and Paris.
In parallel, Louis Kalff works free-lance and designs posters for the Scheveningen beach resort in the Netherlands for Radio-Holland and realized book covers as well. An architect too, Louis Kalff designs among others, the Eindhoven Astronomical Obervatory. He works at Philips until his retirement in 1960. Louis Kalff died in 1976. 
Read more