0
Your shopping cart is empty.
Mies van der Rohe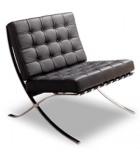 Born in 1886 in Germany, Ludwig Mies van der Rohe is one of the most influential architects of the 20th Century. His architectural projects are characterized by their clear shape and the intensive use of glass, steel and concrete.
After working in a family business of stone carvers, Mies van der Rohe joined Bruno Paul's architecture study in Berlin in 1906 and then that of Peter Behrens in 1908. There  he meets with Walter Gropius, the future founder of the Bauhaus movement. In 1912, he starts his own architecture firm before being called to arms in World War One.
In the 1920's, his glass facades buildings, such as the one on Friedrichstaße get a lot of attention. But the architect also designs furniture: in 1929 for the Universal Exhibition in Barcelona, Mies van der Rohe not only designs the German Pavilion, but also the Barcelona range of chairs and bench seat (see also the MR20 chair and desk chair 255 model)
In 1937, Ludwig Mies van der Rohe goes to the United States into exile with the rise of Nazism. There, he directs the Chicago Institute of Technology school of architecture and he dedicates himself to skyscraper building. He died in Chicago in 1969.
Read more