0
Your shopping cart is empty.
Bernard-Albin Gras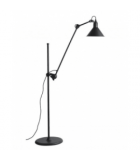 Born in 1886 in Saint Raphaël from a cartoonist father, Bernard-Albin Gras is the first designer of lamps of the 20th century. This engineer has deposed many patents during his career, but none of them has ever known the success of the Gras lamp, manufactured a century later.
It's in 1921 that Bernard-Albin Gras creates in Paris his range of lamps originally destined to the industry and firms. He got a medal from the Concours Lépine  for his Gras lamp which broke with conventions of model of the time and surprised with its ergonomics, the simplicity of the mechanics without screws and welding, making it extremely robust.
Quickly, it will get the interest from French architects and decorators such as Le Corbusier who will himself use his lamps in his own firm before spreading it in most of his works. Used as much in workshops as in interior decoration, the Gras lamp is declined in various models (see table lamps models, models 201, 205 and 207, and wall-lamp 222) and is the embodiment of the golden age of French design. Eileen Gray, George Braque or again Matisse contributed to build this legend. 
His patent was bought back in 1927 by the RAVEL company then by the DCW company which reissued many models imitating this lamp since 2008. Bernard-Albin Gras died in 1943 in Montreal. 
Read more
Showing
1
-19 of 19 item(s)