0
Your shopping cart is empty.
Osvaldo Borsani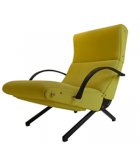 Born in 1911 in Italy, Osvaldo Borsani studied architecture until 1937 at the Polytechnic school in Milan. Even before graduating, he wins the silver medal at the Milan Triennale thanks to his Casa Minima project in 1933. Osvaldo Borsani then works with his family: he first joins the family company Atelier Varedo (then becoming Arredamento Borsani) alongside his father Gaetano Borsani, and then founds with his twin brother Fulgenzio the Tecno company in 1953.
At Tecno, a company specialized in technology and innovation, Osvaldo Borsani develops his own furniture among which the famous "sitting machine" that became legend such as the P40 armchair and its 486 distinct postures (see also the D70 convertible sofa or the AT16 coat-hanger). The company collaborates also with Gae Aulenti, Norman Foster, Gio Ponti or Mario Bellini. Osvaldo Borsani dedicates his career at Tecno in charge of design during 30 years, receiving the Compasso d'Oro in 1962. He co-founds the Ottagono design review. Osvaldo Borsani died in 1985 in Milan.  
Read more